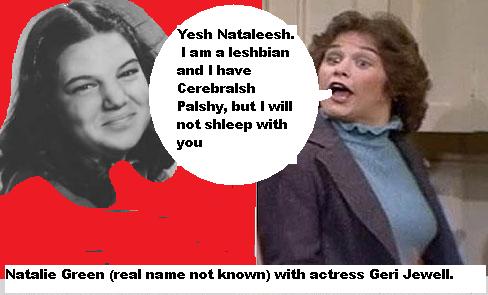 Edna's edibles might have had a deeper meaning when the girls were filming The Facts Of Life back in the old days of late 1970s-early 1980s TV.  
While Joe Polniaczek's real persona Nancy McKeon has spent decades dodging rumors of lesbianism, it turns out that that Blair Warner's cousin Geri — the one with cerebral palsy — was the lesbian all along.  That doesn't mean that Jo is in the clear — let's make that clear right here.
"It's nothing to get all bent out of shape about," said Mrs. Garrett, the head of the school where the girls all went to school. 
"Geri has decided to come out of the closet and life goes on and this is truly one of the facts of life.  I feel sorry for Natalie Green because while Geri had the hots for Blair, Tootie, Jo and even me, Natalie couldn't even get a lesbian with cerebral palsy to sleep with her.  It's a shame what a dog Natalie was and still is today, but they've made her look okay with makeup in a Connie Francis kind of way."
Lisa Welchel, the actress who played Geri's snobby cousin Blair is very miffed because she is a devout Christian and she does not think that lesbianism has its place  in her world.  When asked what Jesus would do?  A source close to Welchel said, "God made Adam and Eve not Steve and Eydie, and when they sing love songs in Las Vegas it's always about a man and a woman."
Geri Jewell is bravely discussing the facts of her life in her new book, 'I'm Walking As Straight As I Can.'
The actress, best known for her role in the 80's sitcom 'The Facts of Life' and her numerous turns on Broadway, reveals her lesbianism in her new book, 'I'm Walking As Straight As I Can,' to be released soon.  She will be doing book signings all over the USA but the lines will be long because it takes her a while to open the book and sign it — so bring your pup tent.
The title doesn't just refer to her sexuality, however — she also discusses her difficult struggle with cerebral palsy, and the difficult obstacles she had to overcome to make television history as the first recurring role played by a person with a serious disability.  She had to not only overcome the twists and turns of the industry, she had to overcome the twists and turns in her head and neck and arms.
Things got tougher still — the book talks about her money problems, backstabbing agents, substance abuse and eventual recovery.  One source tells about a true horror story.
"Geri got so bad that she almost slept with Natalie Green," said a source close to Geri's makeup artist artist on the show.  "Imagine how low you would have to stoop to sleep with that?"