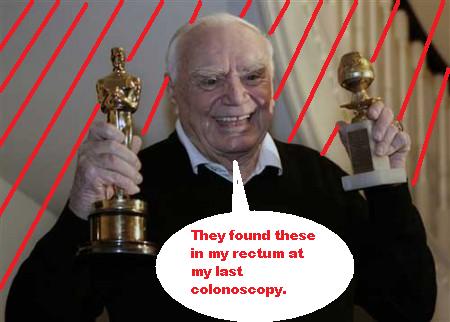 This year's SAG Lifetime Achievement honoree, Ernest Borgnine. He will be honored with the Screen Actors Guild Life Achievement Award at the 17th annual SAG Awards, to be held January 30, 2011.  In essence, the Screen Actors Guild is telling Borgnine, in its own loveable way, that they want him to hurry up and die. 
"They usually croak when we give them this award, you know," said a source close to the SAG head office.  "Ernie's a nice guy and all but sometimes enough is enough.    If they make it to 95 then you start planning a one hundreth birthday party but then they die and you lose your desposit on all the party stuff like tents and balloons.  Better to get it out of the way now."
A little info about him:
He was born on January 24, 1917 in Hamden, CT and is a well-known actor of television and film. His career has spanned more than six decades. He was an unconventional lead in many films of the 1950s, including his Academy Award-winning turn in the 1955 film Marty. On television, he is best known for playing Quinton McHale in the 1962-66 series McHale's Navy, costarring in the mid-1980s action series Airwolf, and voicing the character Mermaid Man in the animated series SpongeBob SquarePants. Borgnine earned an Emmy nomination at age 92 for his work on the series ER.
Ernest Borgnine is also known for looking like he was 95 when he was 35 so that has served him well too. 
"He always looked like he was an old man," said a makeup man at Universal.  "In the film Marty, he says to Betsy Blair, 'I'm a fat ugly man," he wasn't too far off the mark.   He has kind of a blockish head and as a matter of fact, if he had children with Janet Napolitano, the kids would have to work in the circus."