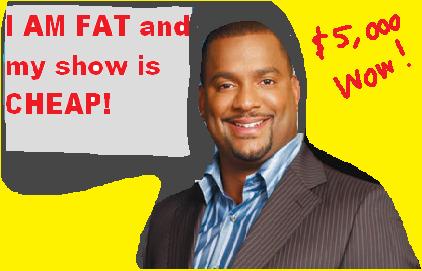 He used to be the tap dance kid and then he was the sidekick to the over-hyped Will Smith in the secretly anti-white TV show The Fresh prince Of Bel-Air.  Today he is the host of the ultra cheapo game show Catch 21 on GSN.  The most money you can winon that show is $5,000 — that's really cheap!  They say you can win $25,000 but that's impossible and requires that you risk everything you've won.
Why don't they change that stupid rule about the $25.000 anyway?
The thing that is annoying about Alphonso is that he starting to look like a fat and sweaty preacher man.  He goes into ghetto talk when he starts talking about big money — as though $5,000 is big money on a game show — but other than that he is actually not annoying. 
Catch 21 is a fun show and the hostess Mikky Padilla is great at her job, but why are they so darn cheap?  Why does the contestant have to risk everything to go for the still cheap $25,000?  Wouldn't it be more exciting if they went all the way to the end regardless of how many power chips they had?
Anyway — it makes no sense but Alphonso, you gotta lose some weight and get higher heels or something because even the female contestants are taller than you.  I know that height means nothing but it looks kinda squirmy when this short fat sweaty guy is standing next to a woman contestant who towers over him and they are both shouting, "TWENTY-FIVE THOUSAND DOLLARS!!!!!!