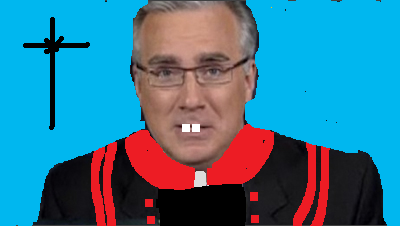 MSNBC, the cable station watched mostly by social misfits, has finally fired Keith Olbermann from the funny farm where he  "anchored' for eight horrendous, untalented, insane, and putrid years.
 He was quietly fired and is no longer working for MSNBC. 
You will hear the pretend news that he is leaving because of creative differences, but the truth is that Keith got the axe and has become a priest at a local gay Episcopalian church where he will perform weddings for militant lesbians.
Does Keith understand that nobody even noticed that he was fired until other stations mentioned it?  Does he understand that Snooki and Mike The Situation have more talent and 30 million more viewers than he ever did?  Does he realize that he was the big star at a network that was already a white dwarf?  But he hopes that his missionary work with militant lesbians will put him in good stead with both the lord and all the women who work at the ASPCA's throughout the USA.
This should not surprise anyone, since Olbermann has been eventually fired from every job he has ever had in the public eye.  When he was a drive-thru manager at McDonald's, nobody came, but now he has found his true calling and there will be no stopping him. 
Sadly, now that Olbermann is gone, it will be hard to find the political morons in your midst.  It used to be that anyone who watched MSNBC had something mentally wrong with them.  They're the same people who watch The Daily Show and Colbert and think both are profound  — BTW, both shows are  now getting beat in the ratings by Tosh.O — a show where a might-be-gay funnyman does shtick about YouTube videos.
Olbermann is now at Shady Pines Episcopalian Lesbian Chapel and Crew Cut Emporium where he is in charge of guarding Sophia Petrillo's ashes and marrying militant lesbian couples.   To anyone interested in getting Olberamnn to marry them, the fee is $50.00 and the rules are that the couple consists of one plain woman who looks like a woman and one overweight woman in a tux with who has a crew cut with a grey streak off to one side.