As weird as it seems,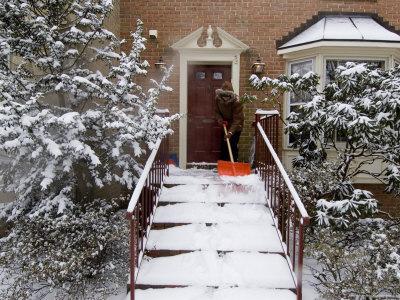 Liza Minelli was spotted this morning shoveling snow from a stairway in Pelham Manor, New York where she often visits an unnamed  friend.  While the snow was only a few inches deep and easily whisked away with a one handed push of the shovel, Liza was helped along in her manual labor by none other than David Furnish — Elton John's husband.
"I came out to drive my car around to t he front of the driveway," said a youthfully glowing Liza who was wearing a oversized tan parka and with the hood pulled over her head.
"I opened the door an there in front of me is a winter wonderland.  I thought it was fabulous.  I missed the blizzard last week because I was in Los Angeles but this is enough snow for me.  I feel like a kid. I haven't shoveled snow since I can't remember when."
David Furnish, Elton and Liza are staying for a few days in the home of a friend (unnamed) and are planning a trip into Manhattan this evening for dinner and then Liza will fly to Paris while David and Elton will be flying to Atlanta with their new baby.
"You should see how gorgeous that baby is,"  said Liza as she playfully tossed a snowball at Furnish.  She didn't notice at first that she had hit Furnish square and hard in the face and it wasn't long before she got a snowball back even harder from the former criket player. 
"You son of a bitch," screamed Liza like a funny kid.  Before long the whole thing erupted into a huge snowball fight and a playful brawl in the snow.  Liza quickly called it off.
"I have a titanium hip," said a giggling and breathless Liza.  "That thing is supposed to last thirty years if I don't abuse it."
Liza brushed the snow off her coat and hat while David Furnish finished pushing the snow out of the driveway.   Elton John watched from an upstairs window but didn't enter into the festivities.