BUT NOT AS WEIRD AS THIS VIDEO AT THE BOTTOM OF THIS PAGE.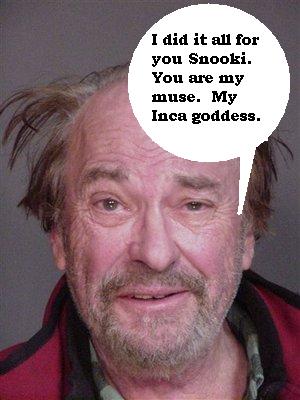 Actor Rip Torn has pleaded guilty to charges relating to a bank break-in he claims was fueled by too much alcohol and confusion and a lust to find Snooki who he was told was a teller in that bank.
"I'm like totally not a fuckin teller," said  Snooki from a hot tub she shares with Joey Lawrence's hair transplant surgeon.  "Who th ehell is Rip Torn?  Is this like a trick they played on me a few weeks ago when they told me to remember Pearl Harbor?  Cause I didn't even know anybody named Pearl Harbor, bitches."
The 80-year-old Torn yesterday was given a two and a half year suspended prison sentence and three years probation.  On other words, some poor sap in prison will have to change Rip's clothes when he rips one in his pants — cause it will probably be all gurgly and wet.
  
Torn pleaded guilty to charges of reckless endangerment, criminal trespass, criminal mischief and carrying a firearm while intoxicated.  He was also found to be a lacky to an unfunny comedian named Gary Shandling despite having had a great career as a serious actor.
  
Torn was taken into custody early this year after police found out he had broken into a Litchfield, Connecticut Bancorp branch.
"But I was looking for Snooki,"  Torn said at the time.  "She told me I was cool and she wanted to hang with me at the Surf Club in Seaside Heights and do shots.  She lied to me…Snooki why did you lie to me…why?"
  
After the Snooki defense failed, Torn claimed he mistakenly thought the bank was his home, although he failed to explain why he would break into his own home with a gun.
   He originally pleaded not guilty to the charges, until changing his plea on Tuesday. In order to stay out of jail, Torn must take random drug and alcohol tests, and will be banned from possessing a firearm.  He must also stay out of Seaside Heights and not go within 300 yards of Snooki — which is the standard distance that most people in the world would like to be away from her anyway.