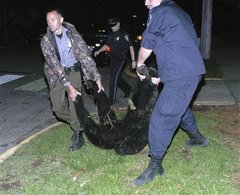 A 300 pound black bear was shot and killed last week by a local policeman when it  charged an officer at a park in Woodbridge, New Jersey.  At first authorities believed the bear had come from the neighboring town of Clark, but new evidence suggests that an individual or individuals may  have planted the bear there in order to ensure that NJ Governor Chris Christie did not cancel or limit the hunt.   The bear had never before been seen or reported and some zoologists and naturalists are suspicious of the bear's origins.
"A black bear of that size could not have matured in that urban area nor could it have ventured there without having been seen hundreds of times." said an unidentified zoologist from nearby Watchung, NJ. 
"Woodbridge and Clark are sprawling suburban cities that are surround on all sides by major highways and roads.  In order for a bear to grow to that size it would have had to raid garbage cans and gardens for over a year, and in a town like Woodbridge, the bear would have been seen by many, many people.  A bear that size would be an 800 pound gorilla in a room.  Also, the fact that it reacted in anger makes one more suspicious that the bear might have been handled or mishandled by humans in the days prior to its appearance and subsequent death."
"For it to have venture from elsewhere to Woodbridge unnoticed would be utterly impossible,"   continued the zoologist. 
"The area is surrounded by thousands of businesses;  including car dealerships, furniture stores, restaurants and homes.  The area is also surrounded by highways. There is no wooded area for such a bear to live life as a wild bear so it would have had to be pretty much out in the open all the time — which it was not.  The sudden appearance of the bear and the urgent response by the police after a call from locals leads many in the zoological field to believe that the bear may have been captured elsewhere and planted there by hunters or hunting enthusiasts as a means to prevent Governor Christie from calling off the hunt."
A New Jersey veterinarian and wildlife ecologist seems to agree.
"A black bear of that size does not just suddenly appear in a populated urban and industrial area,"  said Dr. Rashneesh-Rah Mindipple of Vineland, NJ. 
 "Also, for the bear to charge a police officer is highly unusual and would indicate the kind of behavior one sees in a bear who has been recently taunted or captured or both.  If the bear had been simply taunted by locals, the bear would have been reported, but it wasn't and this leads myself and many others to believe that the bear was intentionally brought to that park and planted in one of the busiest areas of New Jersey — an area where a black bear could neither venture unseen nor choose to live.  Despite their bumbling gait and ungainly stride, they are very intelligent animals.  The size and temperment of this bear suggests that it was from northwestern New Jersey or parts due west heading towards Pennsylvania."
"There will be an investigation into this and I am not sure what the penalty would be for this kind of crime, but it is certainly a serious one since it endangered the life of a brave police officer.  Woodbridge has a top-notch police force and these men do not shoot their guns for mere sport.  That bear was angry which would be understandable if it had been captured and released in a strange place, but no evidence supports the seemingly complacent argument that the bear was just a wondering rogue.  Something is very suspicious.  It would be like finding a 20-pound dog had been living in your home for a year and yet you never saw it or any evidence that it was there.  The thought of such a thing is silly."
Investigators from the Wildlife-Urban Cryptozoologica Task Force in Dobb's Ferry, NY  say they are coming to NJ to investigate.