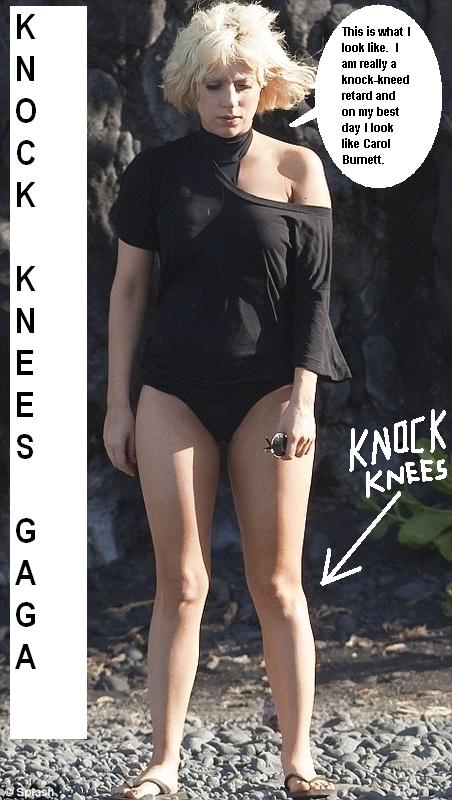 Lady Gaga will say anything to get attention.  She's now worried that the media forgot that she flew under the bisexual flag when she was trying to get a leg up in the industry — before she stole that other dead girl's act.
The Gaga is busy crying in Poland and pretending that she is upset about US military policy of  "Don't axe Don't Tell" — but in reality she has no clue about the subject and the Polish people don't give a shit.  Since the Pope died, there is really nothing going on in Poland.  What little there is going on in Poland revolves around a photo that has surfaced that shows Gaga to be a knock-kneed Carol Burnett look-alike. 
"We do not tolerate knock-kneed bisexuals in our country, " said Polish gay man Teho Redwestowihowiz.  "She is making us hate Americans and last night myhusband threw up a week's worth of kielbasa and cabbage.  We are a simple people but we are not immune to all airbourne pathogens. "
Please Gaga — SHUT UP!  You stole that poor girl's soul and now you are cursed with knock-knees and a horse face.  The soul-stealing thing was written about here on TheDamienZone.  (Use our search thing to find it) .  Gaga makes us sick and soon Sarah Palin will soon go on Larry King's show to talk about how annoying and untalented and knock-kneed you are.