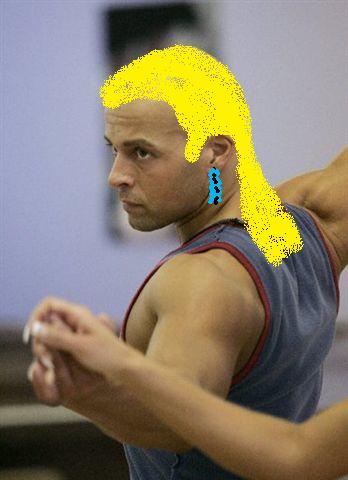 "I needed a job after I saw how bad my new show "Melissa and Joey" was,  so I called Dog and he gave me a job,"  said TV star Joey Lawrence and he adjusted his feather earring and fluffed up his glue-on mullet.  " I will be hunting for bail jumpers in Honolulu and then I will throw myself into a volcano because I can't believe that I am wearing a mullet wig."
So now Joey is making a video of the famous Halloween song, The Monster Mash.
"It's the last show-biz thing I am going to do before I start working for dog," said Joey as he rehearsed his new dance steps while wearing his new mullet wig. " After I finish taping, The Monster Mash tonight, I have to go get everything pierced and I have to get about 100 tattoos — that's gonna hurt."
Joey Lawrence will be Dog The Bounty Hunter's sidekick now that his deal to play on the medical show HOUSE has fallen through and his show Melissa and Joey has been cancelled by the federal government.