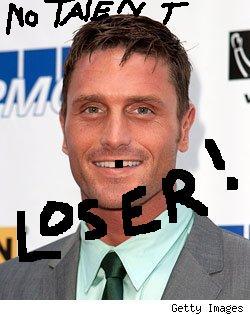 This show will damage more young gay minds than a lifetime of bullying.
Everybody is buff or has to be buff, and all their parties have to have hot buff guys. "I only want hot guys at the party," says one of the swishy cast members.
Young gay kids will watch this and feel that they are nothing unless they are part of the NYC gay glitteratti. Kids who are less than an Adonis will feel fat and ugly and disgusting — and that's how these guys treat the world in general.  They cheat on each other and have no lives aside from their gayness.  It's a great big whoop-dee-doo gay world of parties and designer clothes and who's who in gay land.  BLECH!
It's all about backstabbing and bitchiness and nastiness and superficiality. It's all about who you know and how much money you have.
Think that 99.9% of young gay guys who watch this are at both an economic and attractiveness disadvantage yet the show does not address that. Instead it reinforces stereotypes about gay men and gay sex and does more damage to a young gay kids mind than any bully could ever do — this show represents the whole world to a poor gay kid in middle America. It's disgusting.
If I were a gay teen and I watched this, I would feel fat, poor, unloved and unloveable and uninteresting and undereducated and unsophisticated — I could go on all day long. I don't want to hear another gay group cry about a kid who kills himself because of his gayness — because this show will make more gay kids feel more alienated than a hundred bullies in a hundred highschool locker rooms.
Don't come crying to me when gay kids start making a habit of jumping off of high places.  This show is grotesque — actually it's a grotesque model for any kid to be exposed to, but gay kids are the the new thing these days.