Sinju Restaurant in Portland, Ore., has removed bluefin tuna from the menu at all three of it's locations and replaced it with whale eyes and porpoise tongues prepared with a lightly breaded shark fin — and that's just the start.
The sushi restaurant made the change after being pressured by customers and environmental groups when Guido Rahr, (no relation to the freaking Guidos on MTV's "Jersey Shore") complained to the owner.
Rahr, president of the
Wild Salmon Center
 was barred  from the restaurants after admonishing Sinju's management for offering the endangered fish.
"I felt it was important for Sinju to know that this is not just another declining species, but perhaps the most high profile endangered fish species on the earth," Rahr wrote in a letter to Sinju in August. 
Jae en Choo,  the niece of Sinju's owner and also not Japanese for some odd reason,  spoke on behalf of her father. 
 "We should have been more up to date on this issue of sustainability and how it lives in the minds of Portlanders," said Choo.  " I know this sounds really irresponsible, and I know aquariums often have literature about what's sustainable and what's not, but you're living the bubble of running your own business you're largely unaffected by these issues until a situation like this comes up."
Wow, that sounded really smart and sincere, but then she went and spoiled it all by saying that the restaurant would be adding new items to make up for the politically sensitive species — and her whole demeanor changed.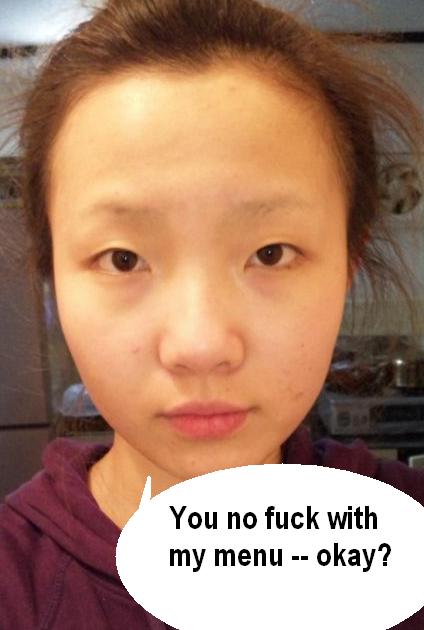 "We have now will serve whale eyeballs and porpoise tongue and breaded shark fin crispies.  We  are also going to serve the last  Coelacanth on earth that we fished out of the waters off the coast of Madagascar.   Modern man had assumed that the Coelacanth had been extinct for millions of years until it was discovered still living in the southern Indian Ocean in the 1930s.  Now, when we cook up the last one next week we will be certain that it is extinct."
"You see things work two ways.  You fuck with our menu and we fuck with your rare animals.  It's actually a very simple case of squid pro quo…hahaha"
Environmental groups like the Monterey Bay Aquarium's Sea Food Watch program say the end result is intolerable.
"We think it's great that one of our card-carrying customers was the person that brought it to the attention of the restaurant but we didn't know that this chick was so evil.   Guido Rahr took the time to start the conversation and changes were made. That's an important message.  But now that we think about it, maybe we shouldn't have fucked with these people. "
Choo smiled devilslhy when she heard that she was feared.
"I serve whatever animal I want — okay!  And we have stir fried baby seal meat served with bristles from a 7,000 year old Joshua tree, and we are serving whole baby giraffes stuffed with whopping cranes on a mesquite spit grill.   Do you want me to go on, or are you going to shut up now because we also have roasted orangutan penis with calico  kitten kidneys and puppy dog liver too — you happy now?"