Southwest Airlines has agreed to buy AirTran in a $1.42 billion deal that will combine two of the nation's biggest discount carriers and create the largest fleet of flying gay white trash men in the world.
The two airlines primarily overlap in the Baltimore and Orlando markets. Passengers traveling to and from those cities could face higher ticket prices because less competition traditionally means higher airfares but the thrill of meeting some of the most fabulously horrible bitchy men will be well worth the price of admission.
"Honey, these queens will rule the air just like Zsa Zsa Gabor ruled Venus," said Lance Pillabiter of the Gay Male Flight Attendants Union in San Francisco.  "We'll  have more snotty, bitchy, low-rent, low-down queens on the ground and in the air than the city of Provincetown after a nuclear explosion."
The acquisition moves Southwest into 37 new cities. The largest of those is Atlanta, where Delta Air Lines is based. Atlanta's Hartsfield-Jackson International airport is the nation's busiest, and a primary hub for business travelers, a group that Southwest has increasingly been targeting because they tend to pay higher fares but they have some really funny gay flight attendants so the new kid on the block will have to try harder.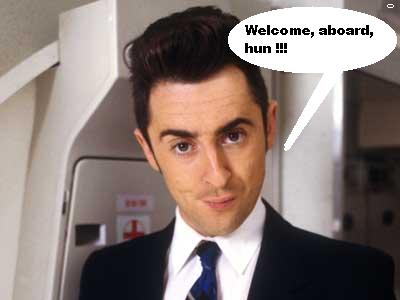 The acquisition also gives Southwest a bigger slice of the market in cities like Boston and New York, major East Coast cities, where the gay flight attendants can run amuck.
Drinks will be $4.00 for Coke and 7-Up. but lube and gloves will be complimentary.