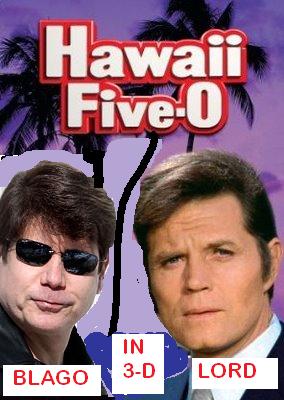 "It's looks like a go ," said producer Dano Suelek of Amibelle films.  "I called Steve Katzenberg and told him that Blago liked the script and ten minutes later Katezenberg called me back and said, 'book 'em, Dano.' 
"That was kind of funny," continued Suelek.  "Jack Lord, the guy who used to play the part that Blagojevich has accepted, became famous for always saying that book 'em Dano thing, and it's like a coincidence that my name is Dano and he wanted me to book him but not for a crime.  It was just one of those weird things with words and phrases."
Rod Blagojevich seems impressed with the script and he can't wait to get to Hollywood.
"The first think I'm going to do when I get to Los Angeles is buy a hot comb," said Blagojevich after handing one juror a fat  envelope. 
"You know how back in the 60s and 70s they had those hot combs that made your hair all puffed up in the front?  Yeah, that's what I want because right now my hair makes me look a little retarded or slow like Mo from The Three Stooges.   People think it's a wig but they don't make wigs this bad anymore.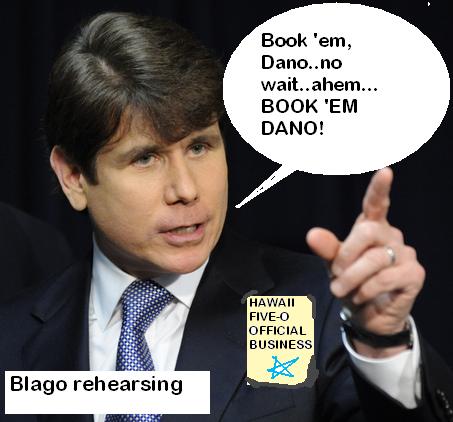 "Now Jack Lord, he wore a rug — I'm pretty sure,"  laughed Blagojevich.  "I mean, who would be so stupid to have hair that looked like that, right?"
Even though Jack Lord is long dead and buried, plans are to exhume his hair and put it on an actor and film him from far away.
"It's going to be like an Obi Won Kanobi and Luke Skywalker thing," said Blagojevich as he took an envelope away from a different juror. 
"I'm like the son and my father, Jack Lord appears to me on the beach at Waikiki and we solve crimes but he's like a ghost.  This is fucking golden man and I'm not going to let it slip through my fingers for nothing."
There was brief hold up when Jack Lord's family demanded  $2 million dollars for their father's exhumed hair, but paramount and Katzenburg and Weinstock and Weinstien and Geffen and Silverman got all their change together and went to the coin star at the local Ralph's in Van Nuys, California and got a voucher for the $2,000,000.
"These guys tried to pay us in quarters to exhume our father's hair," said Jack's daughter Mi Lord. 
"What did they think — that we were whores or something?  I told them to come back with real money and the Coin Star voucher is just as good, so they will be digging up my father in about an hour and hopefully his hair will be good.  We know it will  because we had his head extra embalmed when we anticipated this years ago."
Blagojevich's resemblance to Jack Lord has not gone unnoticed and his acting coach says that Blago has the chops to pull off the major motion picture which will costar Lindsay Lohan, Steven Slater, Clay Aiken and Adam Lambert. 
Blago added a few spoilers, but that won't keep rabid Five-O fans away. "It's going to be about a bunch of gay guys who  rob a bank in Honolulu," said Blagojevich.  "I find out that they got the money and I talk to them on the phone about how I want some of the loot or else I will tell everybody that they are pillow biters.  Man, this movie is fucking golden.
Hawaii Five O in 3-D is slated for a Spring 2011 opening.