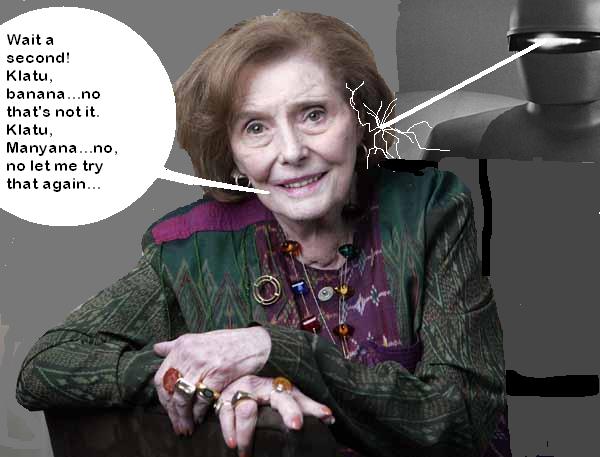 Actress and alien enabler, Patricia Neal, who won an Oscar in 1964 for "Hud" and later fought back from crippling strokes, has died at age 84.
She also nearly died when an alien robot tried to kill her in Washington DC way back in 1952. She survived when she remembered what Klaatu, the robot's master, told her to say.
"Klaatu, Mirada Nikto," were the words that got her spared back then but when Gort came back she kinda forgot the incantation.  Oh well, she was a nice lady and a great actress.
Miss Neal died at her home in Edgartown, Mass., on Martha's Vineyard, Sunday morning, said longtime friend Bud Albers of Knoxville, Tenn.
The Kentucky-born Neal, famous for her husky voice, was already a Tony-winning stage actress when she made her film debut in 1949. Among her movies were "The Fountainhead" and "A Face in the Crowd" and "The Day The Earth Stood Still" — the real one, not the shitty one with Keanu Reeves.
The year after winning the Academy Award, she suffered a series of strokes and had to relearn to walk and talk. But she returned to the screen and earned another Oscar nomination and three Emmy nominations.
Albers said her family let him know of her death. A stroke and brain injury rehabilitation center is named for her in Knoxville.