SEASIDE HEIGHTS,  THAT DUMP ON THE JERSEY SHORE THAT ALSO HAPPENS TO BE THE HOME OF THE MTV TRAIN WRECK, MONEY MAKING, STAR-MAKING SHOW  "JERSEY SHORE" IS CURRENTLY UNDER SEIGE.  SOME BIG SHARKS ARE PATROLING CLOSE TO THE SHORELINE AND FORCING OFFICIALS TO PROHIBIT SWIMMING.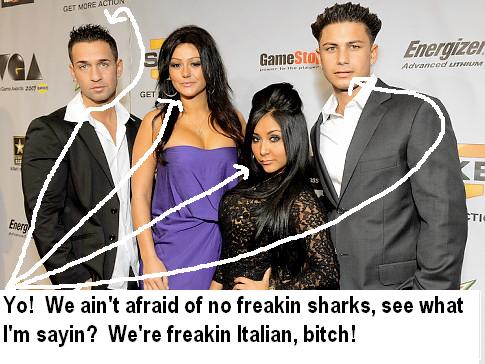 YES, THAT'S  THE SITUATION, SO TO SPEAK, AND GUIDOS ALL OVER NEW JERSEY ARE GETTING READY. 
"I'm gonna punch the shit outta those motherfuckers," said Nicky Porcorriello of Weehawken.  "I'm fuckin ready man." 
While Porcorriello  — or however I spelled it–  thinks that his blinding fists of fury will keep sharks away from his chick, other Guidos and Guidettes are packing heat.
"I got my grandfather's freakin rifle said Vinny Truncetello," of North Arlington.   It's a Manlicher Carcano  just like the one that blew off fuckin President Kennedy's fuckin head — fuck that shark, yeah!"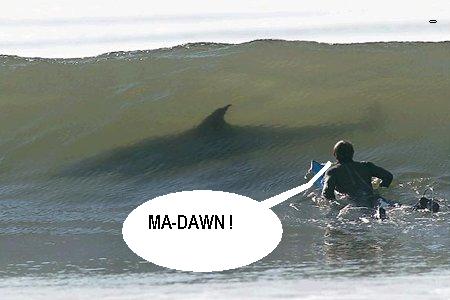 The cast of "Jersey Shore" is currently getting busy to shoot season two and perhaps the troubling sharks won't bother them.   Sharks don't eat Guidos because spray on tan is a natural repellant, but one can hope, can't one?