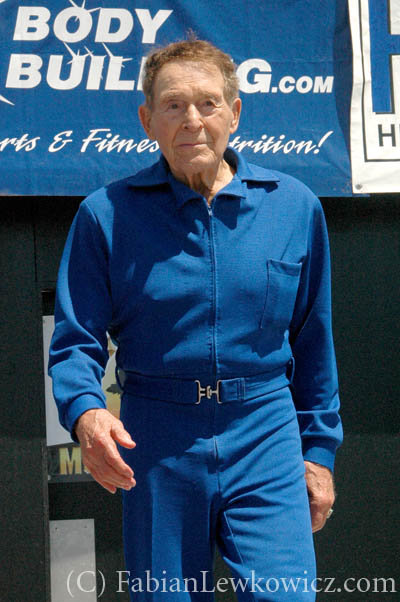 TESTS PERFORMED ON JACK LALANNE'S FUTURISTIC JUMPSUITS AT THE MAYO CLINIC  HAVE PROVEN THAT THE 97 YEAR OLD FITNESS GURU'S UNUSUAL ATTIRE IS THE SECRET TO HIS LONGEVITY.
"We were able to determine that the material that makes up the blue jumpsuit works as a fully functionally kidney," said Dr, Leon Hunch of the Mayo Clinic's department of nephrology.  "Mr. Lalanne can wear the blue suit until it starts to smell like piss and then he must change into the dark brown one, which acts as a complete digestive system and rectum.  When  that one starts to get browner…well you get the picture."
Doctors at the Mayo Clinic have been trying to learn the secrets to Lalanne's longevity for years and there had been a rumor that the jumpsuits, while gayish looking, were actually fully functional internal organs that could be worn on the outside of the body.
"His red jumpsuit acts like a fully functional cardiovascular system, " added Dr. Myrtle Best.  "As a mattter of fact, Jack (Lalanne) wears a light cotton red undergarment made of the same material with all of his jumpsuits.  If he didn't he would not be able to circulate blood.   He wears the full size red suit when he has a heavy day of juicing planned. "
Doctors reported that the downside to all of this is that none of the suits has shown to act as a functioning penis and testicles although one of his linen outfits will drip small amounts of semen when  Lalanne is aroused.
"At first I thought it was coconut juice," laughed Elaine Lalanne, Jack's wife of 88 years.  "But when I put it in my pina colada I got that — you know — that burning feeling you get in your throat when you swallow cum."
Sadly Jack is unable to travel on airplanes because doctors have determined that if he were to be strip searched, Lalanne would die instantly.